It's been four long days since I began watching When They See Us, a miniseries (Netflix) based on the TRUE story about the Central Park Five. The in-depth adaption of each victim's (yes, these boys turned to men are and were victims) account of what they experienced was carefully depicted by great supporting actors, a well written screenplay and precise stage setting that allowed the viewer to feel every drawback, almost victory and tumultuous moment experienced by the accused. The New York City based story is told over a series of 4 episodes each being an hour and some minutes in length of time; but I like most other viewers could only watch it in parts. Directed by Ava DuVernay (Queen Sugar, 13th) the short series recounts the inception of the 1989 alleged rape incident which changed the lives of five young Black and Latino men forever. Korey Wise, 46; Kevin Richardson, 44; Raymond Santana, 44; Antron McCray, 45; and Yusef Salaam, 45, were all between the ages of 14-16 years old when a playful night in the park turned into an alleged brutal assault and rape of a then 28-year old White female jogger. The story is told in a way that allows the viewer to understand and digest the series of accounts spanning over a two and half decade period of time. What was once historically known as an unnecessary attack made on a White woman by a brigade of Black and Latino young thugs quickly turns into a horror film filled with unlawful interrogation, coercion, trial corruption turned into false accusations of rape/assault. Sentenced to 13-15 years between all of them the viewer gets to learn about each boy individually as DuVernay captures the justice system's ratification of racial treason, emotional turmoil, and physical and mental abuse endured by all five of the men accused.
Within the first fifteen minutes of watching the first episode I found myself in tears, mortified at how quickly the turn of events had escalated. Trying to fight back my emotions to get through the first episode I am immediately googling each character as I see them. Kevin Richardson, the youngest of the five who was just fourteen at the time. Portrayed by Asante Blakk, Richardson's story-line was the first to capture my full attention as his interrogation process began with him wearing a swollen black eye courtesy of an arresting officer, petite in stature looking as if he were younger than his then age. His character and overall demeanor displayed showed just how young and unknowing he and the other boys were at the time. You could see the fear in Richardson (Blackk) and how his wanting to go home to his older sister could turn into a confession of what he thought the officers wanted to hear. With everything happening so fast the viewer quickly learns just how little the boys knew of what was in front of them. Richardson's character would remain humble and omnipotent throughout the unveiling of the story. As I continue to watch goosebumps fill my arms, legs and neck as I get to see how little each boy knew about sex, rape and the judicial system as they are brought in for questioning. Antron McCray, portrayed by Caleel Harris is supported by his mother and father whom his relationship wavered. This would be displayed as the trial ensued alluding to the unraveling of his relationship with his on again off again father. The police officers were inclined to take full advantage of the boy's ignorance as they continue to interrogate them without any parental consent or presence. McCray was one of the boys who would deny that he did not know or do any of what was accused nor did he want to agree to the allegations even when his father demanded that he should. His character would come off as quietly affirmed in his innocence displaying meek but strong personal values as a man of his own thinking. Reckoning of the various family structures continues to happen right before the boys eyes, some more quickly than others. Yusef Salaam's character revealed little to nothing about who he was internally.
Re-enactment of Yusef Salaam (Ethan Herisse) with mother Sharonne Salaam (Aunjanue Ellis) walking into trial NYC 1989

Ethan Herisse who played Yusef showed strength through the adaption of religion and education while the focus would shift to a pungent introduction of Salaam's mother (played by Aunjanue Ellis) who remained very candid in her approach of defending her child. During his incarceration Salaam found peace with himself spiritually while managing to get an education all while incarcerated. There's a pivotal scene in which Salaam's mother Sharonne approaches the chief of the Manhattan district attorney's sex crimes unit Linda Fairstein, played flawlessly by Felicity Huffman as the DA was already questioning her soon without her consent. Putting on full blast just how much discourse had taken place during the time of questioning.
Emotions would continue to run high as flashbacks of my own run INS with police brutality and harassment began to surface. Occupying what little space we are given as impoverished youth in the inner city ghettos we are taught to live in fear of law enforcement based on how we've seen our neighbors and friends treated by those handpicked persons designated to serve and protect. Police harassment and brutality are not foreign to most young Black and Latino kinds growing up in inner city ghettos as most of us have unspecified targets on our backs. Impressed by DuVernay's culturally competent expose of how Black and Brown life was during the 1980s in Harlem helped pinpoint the onset of trauma each family endured throughout the chain of events. Raymond Santana, played by Marquis Rodriguez was just fourteen at the time of the indecent. Quickly, the viewer learns how Santana's father (John Leguizamo) was his only means of support. The extended family would digest and accept the allegations pinned against Raymond Santana Jr. labeling him as a 'rapist.' Santana is troubled as he recognizes that life outside of prison is not what he thought it would be he'd quickly entangle himself in drug dealing which would overturn his parole, landing him back behind bars.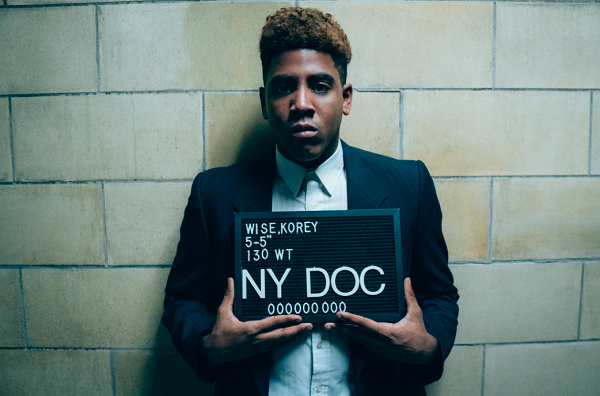 As I approach the last episode my anxiety had risen, my anger was peeked and I needed a break from it all. Taking a day to reflect I realize that I watched how the case was unfolded, four stories about the boys affected and how the prosecution perjured the trial. My feelings are all screwed up, although White people as a whole were not responsible for what happen I still felt they are to blame. Their overall outlook on minorities and how it plays a part in their treatment of Black and Latino people leave me disturbed until this very day. The chain of events occurred based on implicit racial bias adopted by respected law enforcement members. These men and women knew they'd all participated in coercion based on the grouping of young Black boys from Harlem and abroad. All of these things happened and suddenly I say to myself "what happened to the cute guy from Moonlight?" Jharrel Jerome who captured my attention in Barry Jenkins' 2016 Academy Award winning film Moonlight. I remember his as being handsome, sincere and believable which translate to him playing the role of Korey Wise. A then sixteen year old boy who almost avoided being involved in this story all together. As he ended up at the police station by chance being asked to escort Yusef Salaam who was being taken in by police (under the age of 16). Korey would make a decision that would soon come with years of regret by simply saying "yes I'll go with him so his mother won't trip." Wise would go on to face the most jail time, abuse and overall horrific experience as being the one of the five who spent the most time behind bars enduring an extensive amount trauma while behind bars. Brilliancy is what I call the fourth installment of the four-part miniseries as Ava's in depth account of Wise's experience tells us all we need to know about the suffering felt by Korey. Jerome's ability to own the character allowed the viewer to experience Korey's disability with hearing, learning and understanding while connecting emotionally the internal voices and suffering Wise felt from all that was around him. Having been tried as an adult and placed into an adult male prison (Riker's Island) he'd suffer constant physical abuse that left me speechless and tearful among other things. Years passed by as Wise became accustomed to prison life spending most of his time in solitary confinement for safety reasons. His mother (played by Niecy Nash) faced her own personal demons as shown the relationship between Wise's mother and his Transgender sister Marci Wise played by Isis King. As if you the story couldn't get any deeper you get a brief look into the personal life of Wise's family and how him having a Transgender sister is crucial and well-timed to what is happening today. It's heartbreaking to watch his mother disown his sister whose transition is obviously unwanted by her mother who ends up kicking Marci out of the house while calling her Norman (her birth name). Korey hugs his sister tight as she leaves the house and his life forever never to be seen again until he learns of her death while serving his sentence. There's an immense amount of trepidation, trauma and guilt felt while watching Wise's story because you just know that he was undeserving of all that he had gone through.
Having watched this completely I am left empty of any ounce of trust I may have had left regarding our countries judicial system. Not just at the fear of "this could happen to me," but also because it took thirty plus years for the truth of these five men to be seen, heard and respected. Some people may argue that the stories told are up to interpretation based on the idea that any story has multiple sides. While that may be true, it's hard to ignore the facts of evidence provided by the accounts of not 1 but all 5 of the accused as well as the precise confession turned over by the man who ended up being the actual culprit of the crime. To know that all it took was the word of multiple White police officers and a clearly bias White female district attorney leaves me wondering how many other boys or girls turned men and women are sitting behind bars for things they didn't do. Confusion can lead to misrepresentation of feelings especially when you don't know what you're supposed to do with the information learned. With our media still at the helms of manipulating our communities to think and know what they want us to how do we trust a system that has never been designed for people who occupy Black and Brown bodies? Seeing how the judicial system played a key role in the disruption of these boy's lives you soon think, what's changed today? Nothing! Which is why Ava DuVernay remains a true gem within the African-American world of storytelling as she wrote and directed something that cannot be undone. Linda Fairstein, New York City mayors and any other member of law enforcement will have to think twice before attempting to strip away the rights of any Black and Brown person so that Kim Kardashian doesn't have to be the only person allowed to right the wrongs of our countries constitutional laws. We can use our stories and our support systems to educate and uplift one another enough to know that the life they designed for us can and will be disrupted.
Vashon Wade 2019